British Eventing Horseheath Horse Trials
2016 Events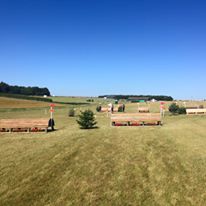 On 13th and 14th August 2016 Horseheath Racecourse, part of the Thurlow Estate, played host to it's very first British Eventing affiliated horse trials. We were overwhelmed by the response from our volunteers and competitors, with riders from around the Eastern Region, and beyond, praising us for the amount of effort that was put in to produce such a welcoming, friendly and well run event in its first year.
Philip Surl, BE Eastern Region Chair said "The inaugural Horse Trials at Horseheath was a great success. The venue and layout of the site worked fantastically well, with the water feature making a great focal point. I think it is one of the best viewing courses in the region. The overwhelming feedback on the day from competitors was that it was a very well run event, the look of the new BE site was second to none and this all bodes well for future events".
The course was designed by Tina Ure, a British Eventing Accredited Coach, UKCC Level 3 (Eventing Specific), BE Eastern Region U18 coach and well known for running Little Downham Horse Trials. The course was constructed on fresh land for BE80(T), BE90 and BE100 classes. Speaking before the event Tina said: "This is a lovely opportunity for British Eventing competitors to ride at this great new venue near to Cambridge. The site offers excellent views across the whole XC course and riders will be able to test their skills across the varied terrain". Almost 500 competitors took part over the two days.
The XC course was constructed under the watchful eyes of experienced BE course builder David Carpenter. It was designed on a figure of eight with a large kidney shaped water splash as the focal point, giving spectators a perfect vantage point which is also close to the secretary's office and trade stands.
Following her BE90 win of Paula Twinn's Desert Fox III, Lisa Clarke Spence praised the event for "a really lovely course that was well laid out and really nice to ride around."
She went on to add "I had 2 BE100 rides and 1 in the BE90 and both courses were great. What was really good was the great viewing, which was excellent for the owners watching, who are ultimately the ones paying the bills." It wasn't the first win at Horseheath for the Twinn and Clark-Spence team with both owner and rider having owned, trained and ridden winning point to point horses around Horseheath Racecourse.
Joanne Foley winner of the PwC BE100 Section C on a score of 26.9 on Mr Eric Coan's Chakir S Z said "It is only his second BE100, and his first win, we've kept him at BE90 to allow him to mature and he now feels really ready for the 100 tracks. He really tried his heart out and made it feel easy. I'll definitely be back next year and it's great to have a local event with so much potential to run the bigger classes and International events."
Thanks to the very generous support from Binders, the event was able to provide 'Mobile Thrones' for spectators, owners and riders, with pictures of the 'thrones' popping up all over social media and making it into many winning riders comments, including that of Dudley Tompson who won BE90 section K on Ceilidh III, bred by Tina Ure, "The really were the poshest loos I've seen at an event – so nice when I bring my 78 year old father along to hold the horse!"
With the first Horseheath Horse Trial's being a resounding success, and hailed as a "mini Barbury", the event was also extremely pleased to be able to announce that the riders had raised £628 for the late Hannah Francis' Willberry Wonder Pony Charity. A charity that is close to the heart of the whole of the eventing community, with riders sporting numerous #kickingcancersbutt wrist bands. The Thurlow Estate in addition has pledged to make a charitable donation to The Maggie Centre – helping families of cancer sufferers www.maggiescentres.org/our-centres/maggies-wallace-cambridge and The East Anglian Air Ambulance www.eaaa.org.uk – for their amazing work saving lives across the region.
Horseheath Racecourse is located 4 miles to the east of Haverhill, nr Cambridge and forms part of the Thurlow Estate, owned by the Vestey family.

2016 SECTION WINNERS
PwC BE100 Saturday 13th August Section Winners:
(29) Hilary Butler, Edward Bear IV, dressage 29%
(58) James Pratt, Willy Limerick, dressage 26%. Also 8th in BE90 on Millyn Malcko
(108) Jo Foley, Chakir SZ, dressage 26.9%
(158) Mary Edmundson, Esme 11, dressage 29.8%, Also 8th on Royal Rufus.
BE80T – section winners
(212) Nicola McClure, Zippity Doo Dah, 23.8% dressage
(273) Martin Wright, Kondennetty Clover, 22% dressage
(329) Laura Byford, Brooklawn Figaro, 27.5 dressage
Horse Requisites BE90 on Sunday 14th August – section winners
(384) William Bamba, Coco Bean, dressage 24.3%
(415) Lisa Clarke Spence, Desert Fox 111, dressage 27.3%
(464) Emily Bradshaw, Confetti, dressage 27.8%
(524) Dudley Thompson, Celidh III, dressage 26% (bred by Tina Ure)
(578) Caroline Smith, Brother Barnaby, dressage 23.5%
BE100 OPEN
(603) Victoria Bax, Albertas Rose, dressage 28.3%



Sponsors
We would like to thank our generous sponsors for their time and contributions that enabled the Horse Trials to take place.
Headline sponsor was PwC. Tony Price, PwC partner who leads My Financepartner in the UK, said: "The My Financepartner team at PwC is proud to be the official sponsor of the inaugural Horseheath Horse Trials. As a relatively new business providing outsourced accounting services to SME businesses, we know first-hand how challenging it is to set up a new venture, which is why we are committed to helping the Horseheath Horse Trials team establish itself as a key fixture on the eventing calendar."
MyFinancePartner team at Price Waterhouse Coopers
NFU Mutual (Bury St Edmunds office)
Carter Jonas (Cambridge Office)
Thank you also to Sarah at Squash Catering who's expertise in the sponsors marquee was second to none and highly praised by all.
VOLUNTEERS
Thank you to all of our wonderful volunteers at Horseheath Horse Trials this weekend. We have been overwhelmed with positive feedback from our competitors over the weekend as to what a great job you all did. As promised at the start - everyone who helped at the weekend will be able to take us up on the offer of a free XC schooling pass. As soon as the dates are confirmed we will let you know and you will be able to book directly with our Estate office.
Thank you also to the key committee members who have given their time and expertise, without whom the Horse Trials wouldn't have been possible:
Tim Barling - Organiser
Tina Ure - Course Designer
David Carpenter - Course Designer
David Merrett - BE Technical Advisor
Wendy Evans - BE Entries & Scorer
James Midgley - BE Steward
Jules Millar - Marketing
Ginny Faire - XC
Maddie Peal - Dressage
Sue Peasley - Show Jumping
Competition Winner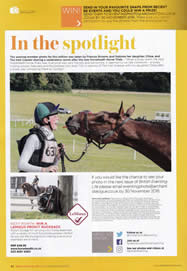 Congratulations to Frances Browne for winning the photographic competition in British Eventing Magazine (Nov/Dec 2016) with her fantastic image taken at Horseheath Horse Trials.