British Eventing Horseheath Horse Trials
April 2017 Events
BRITISH EVENTING RETURNS TO HORSEHEATH FOR SECOND YEAR
British Eventing returns to Cambridgeshire on 22nd & 23rd April 2017 on the dedicated BE course at Horseheath, situated on the Thurlow Estate, just four miles west of Haverhill, off the A1307, CB21 4QF.
The Horseheath Horse Trials take place over two days and attracts around 500 competitors, from across the region and beyond, who come to compete in classes from BE80 (T) to BE100 in all three disciplines including Dressage, Show Jumping and Cross Country.  The cross country course has, once again, been expertly designed by BE Course Designer Tina Ure of Ely Eventing centre and Little Downham Horse Trials.  Tina Ure, a British Eventing Accredited Coach, UKCC Level 3 (Eventing Specific) and BE Eastern Region U18 Coach said "Following on from the momentum gathered from a successful, and well attended, first event last year, I am delighted to be working with the team again to create new challenges across the course for 2017".  Horseheath Horse Trials is unique in offering spectators excellent views across the whole XC course from a single vantage point.
The XC course is already well under constructions under the watchful eyes of BE course builder David Carpenter with new jumps, some built by Willis Brothers who build Badminton, arriving daily.  It is designed on a figure of eight with a large kidney shaped water splash as the focal point, giving spectators a perfect vantage point which is also close to the secretary's office and trade stands.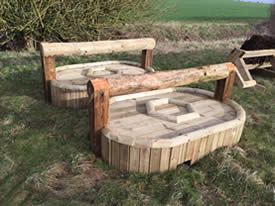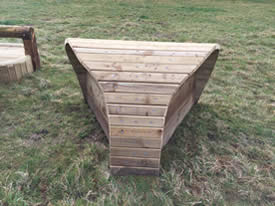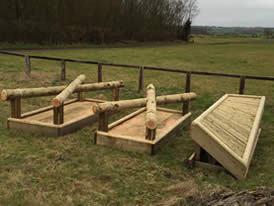 Spectators are welcome, as are dogs on leads, over the two days with plenty of catering from ChipChip Hooray, Jacks Snacks, Mel's Magical Crepes, Caffee Mobile and The Honest Food Company, Fired Up Pizza and Pimms served from a specially converted horsebox. The entry fee of £5 per person is donated and split between the East Anglian Air Ambulance Service www.eaaa.org.uk and Maggie's Centre Cambridge.  There will be plenty of trade stands to peruse including Tiggas Saddlery, Horsebits Clothing and Binder showcasing their new range of detergents.  Also new for 2017 there will be a select group of regional Equestrian Artisans showing their wares.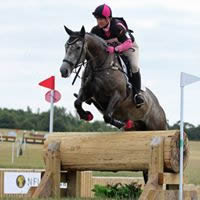 This year's confirmed sponsors include Carter Jonas www.carterjonas.co.uk, NFU www.nfuonline.com, Duck Plumbing & Heating www.duckplumbing.co.uk, Saffrey Champness Accountants www.saffery.com, Andrew Hodge Fencing www.hodge-contracting.com, www.NewmarketEquineHospital.com, Taylor Vinters www.taylorvinters.com, Global Herbs www.globalherbs.co.uk and Binder Liquid Waste Management www.binder.co.uk have agreed to sponsor the Posh Loos - which were a big hit and much admired from last year.
On behalf of the family, Tim Vestey, confirmed "We were delighted to be able to continue and develop our affiliation with British Eventing and, with the help from Tina, David and our sponsorship partners, build a spectacular brand new course for 2017.  The feedback from the equestrian community has been overwhelming and we look forward to the event with enthusiasm as the course takes shape."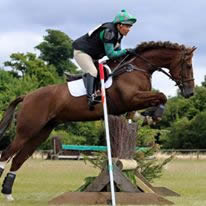 With plenty of on-site parking and easy access off the A1307, Horseheath is getting ready to host what it hopes to be the second of many British Eventing affiliated events.
Entries open on 16th March 2017.  Entries can be made on the British Eventing website after the open date.
Interested parties can be kept up to date with news and progress on the Horseheath Horse Trials Facebook page and on Twitter @horseheath_HT
The second BE fixture for 2017 at Horseheath is confirmed as 12/13th August 2017. Enter via www.britisheventing.com.
ARCHIVE
CLICK HERE for British Eventing 2016 Events