British Eventing Horseheath Horse Trials
A BREEZY START TO HORSEHEATH HT (2) August 10/11 2019
The weather was up to its usual tricks at PwC Horseheath Horse Trials (2) 10/11 August 2019, providing challenging winds for organisers and competitors alike to contend with on the first day. In the run up to the weekend, ground preparations, which started weeks ago, included irrigating over 2 million litres of water taken from reservoirs on the estate and equivating - spiking small holes into the surface of the ground to lift it. The XC course was designed by BE's Tina Ure and build by David Carpenter and his team.
Over 450 competitors braced themselves to face the wind and partake in the British Eventing affiliated one day event *. Prizes of rosettes 1-10, money and a selection of goodies from Newmarket Equine Hospital, Well Gel, Top Spec, Nags Essentials, Ezyloaders, Devoucoux and Happy Equine were also presented to the winners.
Tim Barling, organiser for Thurlow Estate said "We worked hard to ensure that the ground was perfect in time for the weekend including the irrigating of 2 million litres of water from our reservoirs. The wind provided challenging conditions on the Friday setting up and also on the Saturday of competition, resulting in a few withdrawals - mainly from competitors from further afield with trailers - but we ensured everything was secure and pinned down and soldiered on. We also tried to reschedule withdrawals due to the unprecedented wind so that they could run on the Sunday instead. This enabled us to deliver a wonderful and successful weekend for approximately 450 competitors. We are very grateful for the fantastic support we receive from our principle sponsor PwC and indeed from all of our sponsors, volunteers and support teams who made the weekend run so smoothly".
The winners: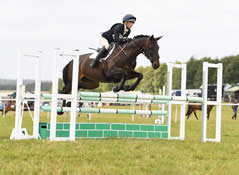 Section A PwC BE100
It's a win for Melissa Joannides (27) who travelled from West Sussex this morning with her boyfriends hunter Hay Josephine to win Section A PwC BE100. Her most memorable part of the day was battling against the strong winds in her dressage test and was delighted to win for a second time at Horseheath.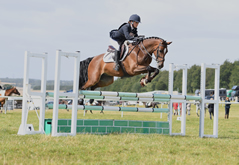 Section B PwC BE100
Naomi Lawrence (69) from Olney in Bucks won Section B PwC BE100 after a spook in the warm up on her 5year old resulted in an unscheduled dismount and a quick check with the doc. She took the win with a double clear and 26.5 dressage.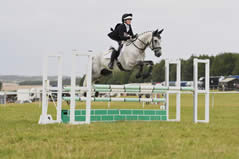 Section C PwC BE100
Anna Czylok (122) flew in from Portugal at 6am this morning after her holiday flight was delayed. Last night dining in Lisbon and today took the win in the BE100 PwC section C on her horse Curolea Mika with a stunning 25.5 dressage. Sleep deprivation suits her!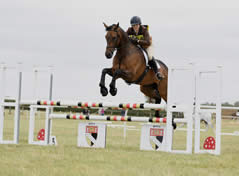 Section D NEH BE105
Winners of the BE105 NEH Section D was Joanne Watts (154) riding Deirdre Hunt's Churchside Reflection with a dressage score of 22. Her owner said "Churchside Reflection is only ridden by Jo at events, she does a fantastic job producing the results that she does".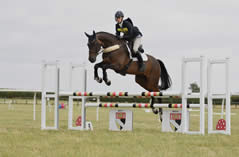 Section E NEH BE105
Catherine Sadler (222) took the BE105 NEH Section E with her horse Royale Messenger with a dressage score of 27.3 she particularly enjoyed the cross country and praised the organisers for the beautiful course.
Section F Taylor Vinters BE90
Sophie Reason (258) from Colne Engaine won the BE90 Taylor Vinters Section F on a 25 dressage with her horse Ballygriffen Buddy. She was delighted to get a double clear against the challenge of the high winds. "It was lovely to get the win at our local event as it is very friendly and well run".
Section G Taylor Vinters BE90
Clare Dobie (329) from Witham, Essex won the BE90 Taylor Vinters Section G with a 31 dressage with her horse Kildangan Calypso. "This is my first BE event with no time faults on the XC".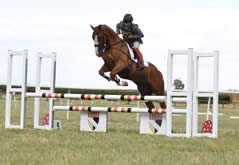 Section G1 Taylor Vinters 4YO
Alice Haynes (345) from Newmarket won the BE90 Taylor Vinters Section G1 4 year old class scoring 31.8 dressage with her horse Emerald Coffey. "It is his first ever event and he has qualified for Osberton".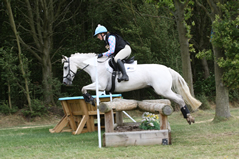 Section H Taylor Vinters BE90
Winner of Section H Taylor Vinters BE90 was Katie Hale (376) from Reigate and her horse Clayton Robinia with a dressage score of 25.8 just adding 0.4 tf. She loved the XC and felt it was an excellent chance to run before the Pony Club Championships next week.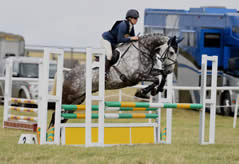 Section I Taylor Vinters BE90
Winner of Section I Taylor Vinters BE90 was Lucy Haycock from Colchester and her horse Silver Viking with a dressage score of 21.5.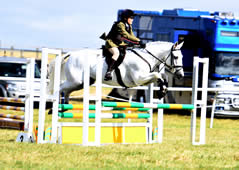 Section J NFU Mutual BE90 Open u18
Winner of Section J NFU Mutual under 18 BE90 was first timer Henry Dollar (461) from Royston and his horse (inherited from his sister) Brosna King with a dressage score of 24. He was delighted to have beaten his sister Daisy who was also placed in the Section.
Section K NFU Mutual BE90
Celebrating her second win of the weekend was Melissa Joannides (523)Winner of Section K NFU Mutual BE90. Her horse Woodfield Gold scored a dressage score of 24.3. This was his third BE Event and his second win in a row, after his last win at Chilham Castle.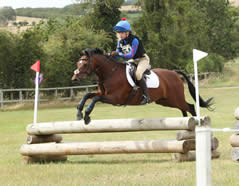 Section L Saffery Champness BE80 (T)
Su Thomalin (624) from Suffolk won the Saffrey Champness Section M BE80 with 25.8 dressage with Mr Beaujangles who she has owned since a two year old.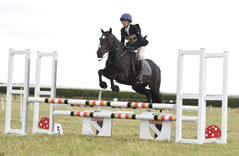 Section M Saffery Champness BE80 (T)
Martha Hall (572) from Rotherfield in Kent won the Saffrey Champness Section L BE80 with 26.3 dressage and a double clear and no time faults.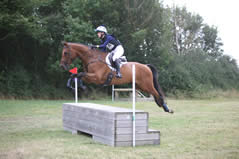 Section N Saffery Champness BE8 (T)
Josephine Gleason (664) from Saxmundham won the Saffrey Champness Section N BE80 with 27.5 dressage and a double clear. She produced OFS Ruffian herself having owned him from a 4year old and this was his first BE after recovering from an injury in 2016.
Horseheath Horse Trials, situated on the Thurlow Estate, just four miles west of Haverhill, off the A1307, take place over two days and attract up to 600 competitors, from across the region, who come to compete in classes from BE80 (T) to BE105 in all three disciplines including Dressage, Show Jumping and Cross Country. Horseheath Horse Trials is unique in offering spectators excellent views across the whole XC course from a single vantage point.
Spectators were welcome, as were dogs on leads, over the two days with plenty of catering from Evies Kitchen, Mels Magical Crepes, Jacks Snacks, Caffee Mobile and drinks served from a specially converted horsebox. The entry fee of £5 per car is to be donated and split between the Air Ambulance Service and Maggie's Centre Cambridge. There were plenty of trade stands to peruse including Nags Essentials, Infinity Bands, Well gel and Happy Equine. In addition to principle sponsor PwC, additional sponsors include Carter Jonas, NFU, Duck Plumbing & Heating, Saffrey Champness, Top Spec, Newmarket Equine Hospital, Taylor Vinters, Cadenza Eventing, Rossdales, Lockhart Garratt, Andrew Hodge, Ernest Doe, Teversham Motors, Top Spec, Crows Hall, Buzzacotts and Simple System. Binder continue to sponsors the Posh Loos – which were a big hit and much admired by all on site.
Interested parties for further BE events can be kept up to date with news and progress on the Horseheath Horse Trials Facebook page and on Twitter @horseheath_HT
For further press information please contact Jules Millar, 07973 854465, This email address is being protected from spambots. You need JavaScript enabled to view it.
* A one day event consists of Dressage, Show Jumping and XC course. Each competitors performs a preset dressage test in front of a judge before jumping a set of 12 show jumps which is then followed by a round of approx 17 XC jumps within an optimum time. Penalties are given for inaccurate dressage, falling poles or too slow show jumping and too fast or slow XC, stops, run outs or falls. The lowest penalties accumulated decides the placings.
BE Organiser - Mr Tim Barling
The Estate Office, Great Thurlow, Haverhill, Suffolk, CB9 7LQ, United Kingdom. Phone: 01440 783661. Mobile: 07825 091409. Email: This email address is being protected from spambots. You need JavaScript enabled to view it..
ARCHIVE
CLICK HERE for British Eventing August 2019
CLICK HERE for British Eventing July 2019
CLICK HERE for British Eventing April 2019
CLICK HERE for British Eventing October 2018
CLICK HERE for British Eventing June 2018
CLICK HERE for British Eventing April 2018
CLICK HERE for British Eventing 2017
CLICK HERE for British Eventing April 2017 Events
CLICK HERE for British Eventing April 2017 Lead up
CLICK HERE for British Eventing 2016 Events